Presentation Rules
8 Rules of a Successful Presentation Slide Design and Presentation Format
Rules for Creating an Excellent Presentation Slide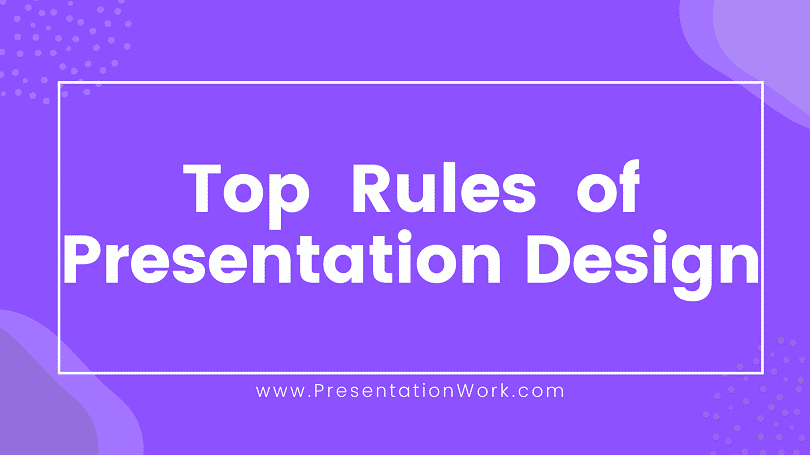 In general, we all somehow have seen dull and unpromising presentations, with overloaded text, loud colors, and messy graphics. There are some quite simple rules which help you create your presentation in a more inspirational and extraordinary way in accordance with presentation design rules. This also helps to avoid the dissatisfaction with the audience.
Presentation Design Format
Don't worry about the presentation when delivering it and consider these eight rules to make it a success.
#1 Use max of six lines per slide
More or less every person likes to see a pictorial representation of a thing. This is because we remember artistic, prominent pictures and the same thing is true for a slide presentation. To wake up the interest of audience slides have to be made clear and keep up the contrast. However, certainly, there shouldn't be excessive text. It not only doesn't appeal to but also rejects. Excessive text in slides is devastating for many people and the whole presentation gets disintegrated.
#2 Ideal font-size is 32
When you set text for slides, it should not be smaller than 30 points. As the audience is not having a hawk eye to see clearly even a very small text. The ideal font size is 32. The audience sitting in the last rows would have a poorer view so they should be kept in mind. If the audience is not able to see the text on your screen this is the most horrible situation for presentation. 
#3 Use bright colors
To a great extent, people give consideration to the design of the presentation apart from content. Your viewers should feel comfortable when reading your presentation. They don't get disappointed with the color scheme. Minimalistic style and lively color assist the audience to distinguish and remember the main information. In addition, it highlights contrast, which effortlessly attracts the attention of the audience.
#4 Use slides you really need
No limit is specified for a presentation. The only limit is time. But you should not spread content to many slides. You should hang onto a simple presentation and limit your presentation to 10 or fewer slides. Thoroughly, look over each paragraph, slide or images. Question yourself whether it's necessary for the presentation, and what it carries, if not remove it.  
#5 Use max one line of text per bullet
Don't reside entire ideas inside if you choose to add text into bullets. This would be like a reading session and the audience will only read a text and nothing new would be brought into the meeting. This works out only for documents or reports. In your presentation, use slides just to improve your speech which could be done by enlarging the bullet lines.  
#6 Tell a narrative story
Display your ideas and views by expressing them through a story. In presentation be enthusiastic, passionate and show interest, this is how the audience will feel the same. Think about what you are about to tell in your mind. Make an appealing and fascinating storyline; create an imaginary scene and illustrate the main issue with some cases. Do some efforts to induce emotions and make a clear conclusion. It makes the presentation exciting and clarifies the point as well. Everyone likes to listen to an amazing story than to just get basic information.
#7 Use your website identification
The visuals shown in your presentation can obviously lift or demote your message even if your speech is perfect. Content may be a king, but always pay attention to design. Integrity has a big role here – hang onto the design of the website in your slides while making your presentation. Be careful with font style and colors. You could also use a watermark having your logo in the background. These things become ground for the audience to be familiar with your brand. It perhaps helps them to identify you in the future and acquaintance with your look. Additionally, adding an e-mail or link on each slide is a good idea, specifically if you share it once the conference is over.
#8 Recommended time: 20 minutes
The time taken by the presentation depends on a lot of aspects. How much information is being shared is an important thing to consider. In certain cases, to share an idea some time is needed. There is no length specified for perfect presentation but the suggested time is 20 minutes. It's the best time length to retain audiences focused, keenly thinking and involved fully. In fact, irrespective of how long you continue your presentation, it's important to end it on time. The audience becomes uncomfortable when their coffee break is reduced.
To mark your presentation a success, you have to take into consideration certain issues. Be conscious of common problems and their solutions at speaking events. Though, when making your new presentation hold onto these problems at the back of your head. 
You are provided with the chance to speak about a story and to share your thoughts with your presentation. Your possible chance to deliver a motivating speech is gone once you have packed a slide with several ideas. However, viewing over your slides, ensure that they transfer one idea in every slide. It moderates the text present on them. The ideal number of lines in a slide is 6. It lets the audience to concentrate on text and speaker's voice simultaneously.
Moreover, to boost your PPT, you may wish to read our guide on creating a wonderful presentation to impress your audience.