Presentation Tips
Best Font Styles for Presentation: 10 Font Styles Widely used for Professional and investor Presentation Decks
Rules for Choosing the Right Font Style for Presentation Design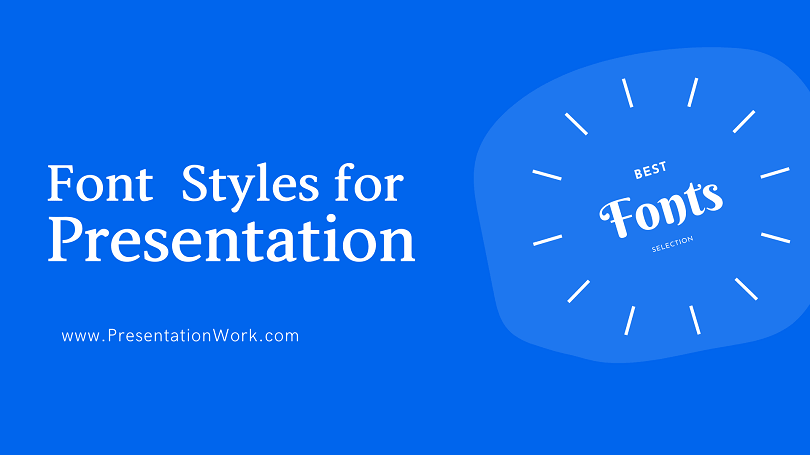 Font style speaks visually louder than its words and meanings. This is why it is of most importance to select an idea font style and best font size in a presentation to set your text as per the tone or theme of the presentation.
There is a lot of creativity that involves making great PowerPoint presentations. There are many presentation tips and tricks to follow that will help you stand out from the rest. In as much as there are other presentations making rules that should be followed, and from those, choosing the right font style is of most importance. This is to ensure that the audience will be able to read what you have written so that the presentation is able to communicate as needed.
Ten Tips to Choose the Best Font Style for an impactful Presentation
Below, we have given you the best tips and tricks that will help you to please the audience.
Use basic fonts
One thing that can excite you about designing is choosing the font for your slides. However, you should not overdo it but stick to some of the most basic fonts. This will ensure that there are no mishaps in the appearance of your presentation if you make it with a different computer. This is because some fonts may look different in other computers so to avoid this, make your design with standard fonts. The fonts that you can use for your presentation include:
Georgia
Calibri
Cambria
Corbel
Tahoma
Caslon
Gill Sans
Constantia
Myriad Pro
Garamond
Use contrasting design
In as much as it may be easy to use texts that are in black and white, you should add some contrast that will provide a balance between the text and the background. Even if you select standard font, you should add some contrast that will ensure that your presentation is readable. You can choose a light font that will be used in a dark background or use dark text and use it on a light background. Before choosing the contrast, you should analyze whether you will view your presentation on a computer or through a projector.
Use a combination of Serif and Sans Serif
There are two major fonts that are used for presentations. These include the header font for headlines and the bullet font for the other text. The header and supporting texts should have fonts that are different. As such, you should pair up two fonts like Serif and Sans Serif. These two fonts will give contrast to both parts of the text and make the text readable to the audience.
Do not use All Caps
Do not choose fonts that have All Caps. This is because when the text is written using capital letters, it will look like you are shouting to the audience. Capital letters can also be difficult to read from far. As such, they should be used minimally.
Do not use Italics and Scripts
In as much as you may need to use handwriting, scripts and etc to make the design look good, these fonts can be difficult to read. As such, you should avoid them when creating your presentation. These fonts can be difficult to read from far.
This also applies to italics. If you want to emphasize on a point, ensure that you make it readable. Italics cannot be easily read by people who are far away from the room.
Make the text large
The major issue that comes with fonts is size. The larger the text is, the more readable it is going to be. The issue comes in choosing the right size for your text. Below are some guidelines to follow when choosing the font size.
For the bullets and main copy, use 18 points as the minimum size
For the bullets and main copy, use 24 points as the preferred size
For the headers and titles, use 36 to 44 points as the preferred size
When choosing the font size, you should have the room size and the size of the screen in mind. For a large room with a small screen, the larger the fonts, the better. For a small room with a large screen, the text will appear too big.
Do not use animations
Do not believe what people say about making overly creative designs. Do not use moving texts, images or words that move from one point of the screen to another. This might make your text less readable and distractive.
The only animation effect that you can use is "Appear". However, it is not necessary to do this because it can distract your audience from the main issue. The mantra that applies here is, "The simple the better".
Consider sharing
There is a very high chance that your audience will ask you to share your presentation with them. There are many ways that you can share this including Slideshare, dropbox, send emails or share using Google slides.
Google slides are the sharing option that makes sharing very difficult, as it prefers various standard fonts as compared to Mac or PC. If you are planning to share, you should ensure that you test sharing the presentation using various tools to see how it is going to appear. Using a Google standard font is the most preferred option that you should use.
Consider the notes
One section of your presentation that you may miss is the notes section. If you want to share your presentation, you should pay attention to the notes section and ensure that the text is readable. You should use the same font for the notes like the one for the main text, headers, and the bullets. The only difference that should be noted is the size of the text. The fonts that you can use for the bullet points and copy text should be 9 points to 12 points and the headers should be 18 to 20 points. This is the best size that can be read.
Be consistent with fonts
Have a library of Standard fonts that you prefer to make your presentations. This will ensure that you will be consistent with the fonts that you use for different slides. You can create a template slide that has all the preferences that you need. When you use consistent fonts style, your presentation will be readable and focus more on the main content that you are passing across.