Presentation Tips
General Rules for Creating Presentation Slides Professionally
Rules for Making Presentations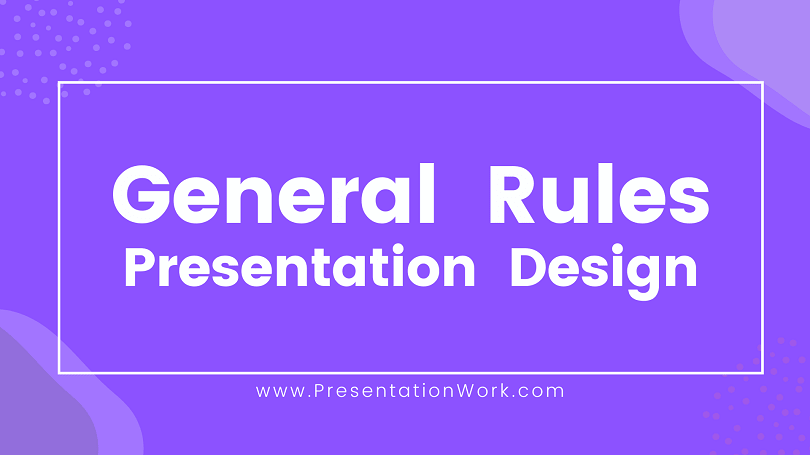 An Overview of Presentation Making
The following PowerPoint tips are meant to take your Presentation skills to the next level.
Rule of Thumb for Excellent Presentation
Homo-sapiens neither able to focus for too long nor they can remember too much. So, avoid putting all in your visual and oral presentation. You can give the details in handouts that the audience can go through in peace and thus can remember better.
#1 How to Assembles Presentation Parts and Slides?
The first part of any presentation is the introduction. The introduction should be strategic than technical and it should give a glimpse of what you are doing and what problems your work is solving?
Rather than stuffing it with a lot of details give an overview of your work and refer a paper for further reading to the audience. You can also handout details to them.
To avoid messing up slides present one idea per slide.
Present your key idea on the Conclusion slide that must not be move than one. Keeping it on last and one will help people remember your idea better than the conclusion slide entrapped between slides.
Put a "talk outline" slide after introduction to specifying the talk timings as it will help in engaging the audience in a better way.
The information you want people to keep in mind along the way must be re-quoted as one-time citations will easily skip their minds.
Always keep your visual and oral presentation coherent. Do not let the irrelevant ideas/things poke up from sides. It will confuse your audience.
Stay minimal, it is always doing good for your work.
Show an overall picture first then go to slight details so that your audience can establish links between details and a big idea. It will help them stay with the concept and save energy.
#2 General Rules of Presentation Slides Creation
The visuals are the second most important element of any presentation. MS PowerPoint is a great tool to do with the visual part of your presentation.  Latex is good for presentations to require formulas as it is more logical than visual specified by the developer of Latex Leslie Lamport. TeXPoint and George Necula's Latex is good to work with formulas.
To keep your audience engaged befriend humor.  A slight touch of humor is good while cracking hilarious jokes is not an option. Jokes are not good to go with serious-sounding personalities.
Practice makes a man perfect. Practice your presentation as many times as possible. Minimum rehearsals for a good presentation are five.
Rehearse in front of people (family, friends) and listen to their criticism. Not all the criticism needs to take seriously but try to get why they are misunderstanding your point and make changes accordingly.
You need to know exactly what needs to be written on slides and what you will remember to accompany the visuals with words.
Stay positive.
Accompany your words with your actions, for example, your act of surprising on unique facts.
After presenting important ideas/facts/numbers give some time to the audience to process them in their mind.
Keep your presentation within a time limit and do not exceed that time in any circumstances.
Be attentive during the question, answer session and keep your answers relevant.
Explaining the very basics is not good for your audience.
#3 How to play with Text in Presentation Slides?
Keep the titles concise to cast a good impression.
Uniform capitalization rules are good to work with.
One idea per slide and keeping the layout of one slide the same is crucial.
Slides stuffed with text will make people do their own reading and not focusing on your words. So, stay minimal with writing by compiling ideas in bullet points.
Do not use small, unreadable fonts.
One formula/one code (in case of coding) per presentation is good to go neat.
Avoid too much irrelevant graphics like affiliations/logos.
Keep grammar and spell check in mind as a mistake can make your audience non-serious about your work.
#4 Working with Visuals in Presentation Slides
Use graphics wisely and replace as many words as you can with images. Almost 80% of the presentation should be comprised of images to offer good visuals.
However, the details you are not going to explain orally must not be part of images or graphics.  Schematic illustrations are better always.
Playing with too many colors is not good as it will divert attention. You can use color coding for your information but try to keep the colors limited. Using meaningful color contrast can be considered.
Using real images of your relevant study is good (e.g. your apparatus, computer, screenshots of software work, etc.). Real images work best in the middle of the presentation as mentioning them at the start render the rest sound unfulfilled.
Using effects makes the graphics stand out, for example, the rectangles stand out with shadow rather than without them.
Choosing a solid background wisely is key to make your presentation successful or fail.
Using animations is not good always as they take more time.  Using animation to link ideas and to show step-wise changes develop coherence.  So, be careful with animation utilization in your presentation.
Bold, highlight, or use strong colors for important information and use lite colors for unimportant information.  The use of thick lines, arrows, and relevant encoding terms helps in developing a working scheme.
#5 Displaying Results in Presentation Slides
The results must be clearly presented and for that keep them relevant.
The axes of the graphs should be clearly labeled. The graphs can be imported from Excel. The default fonts in Excel are small so go with large fonts for axes labeling.
The essence of numbers as part of the results must be explained in words.