Presentation Skills
How to Give a Good Presentation at Work? – How to do a Presentation at Work?
3 Keys to Giving a Normal Presentation at Work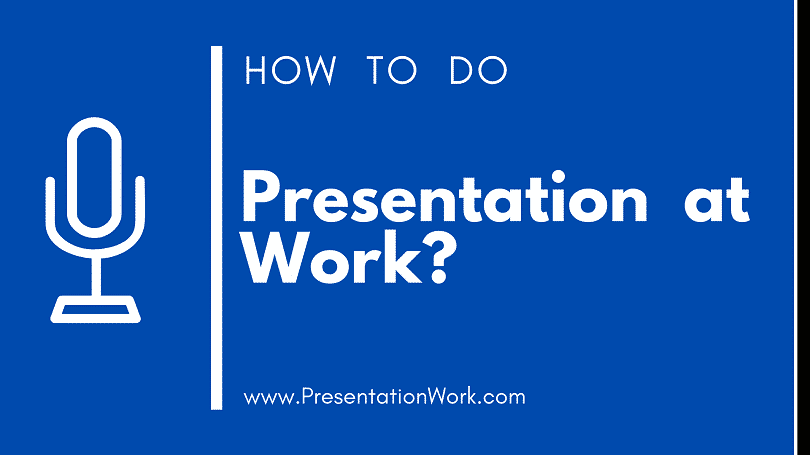 Have you ever struggled while articulating your ideas? Like, you sit back and reflect, thinking you are better at writing them than saying them? Do you feel the pressure when you have all those eyeballs staring at you right in the face? 
Well, you can be in a complicated state of mind when you are about to deliver a presentation at work. Presentations at work are neither TED talks nor a seminar address. All of your words must be chosen articulately, precisely and with accuracy so that you can impart maximum information in the time span you have. 
The first impression is the last impression – we are sure that you must have heard it by now.  However, more than your first impression at an interview or when you are walking the door on your day at the job, what matters the most and keeps your image intact are you're 'at work' presentations.
3 Tips for Delivery Presentation at Work
Unlike any other lengthy presentation or talk, tips like 'don't make eye contact', 'stare at the wall' and 'avoid hand gestures' won't work here. You have to make eye contact and your short presentation must be packed with facts regarding the topic (be it company's audit, budget, sales. etc). Keeping the significance in perspective, you must keep in mind these three things to be sure that your work presentation is absolutely flawless:
#1 Leave the humor at home:
No matter how much of an attractive idea this looks like, do not start your work presentation by cracking a joke. It is totally a no-go area for professional work presentations. You must appear sophisticated and serious. 
Sliding in a bit by injecting a light-hearted comment is another thing. But cracking a full-blown joke that is completely irrelevant to the topic under discussion can quickly put your audience off. Rather than that, spend time in creating the content of your presentation in such a way that it answers all the questions even before the audience asking it. 
Make it more interactive. Go back and forth with questioning with your small group of colleagues. Make everyone feel heard and significant. The key to a good presentation is that every single participant must feel involved. Remember that the attention span of a person is very short, hence, do not drag too much that the listeners lose interest. You must keep them glued until the very end. 
#2 How to do that?
Simply pack your presentation body with a continuous flow of information. If you feel difficult to do that and coming up with content right there and then, you can simply integrate your voice-overs in the presentations. 
Record them in the comfort of your home. Make sure that the voiceovers are not a verbatim copy of your slides so people actually want to listen. Not only will it attract your audience, but it will also show that you went the extra mile with preparing it. 
#3 Clarity, not simplicity:
Sounds crazy, doesn't it? Like you have always been told to keep it simpler and now you are being suggested to not over-simplify?
Well, here's why. Too much simplification can be a turnoff. Remember, at work, they are not asking for simplification – they are demanding clarity and information. Rather than resorting to too simple slides, put in some effort and dense-pack them with information but in a very organized manner. 
Just like too much empty space, too much writing can turn one off too. Hence, properly sort the information out. You can do that in the form of tables or diagrams. Make it more visually pleasing. You first impression and the opening slides specifically must show the effort you have put in. 
Use minimalist designs. Make careful color and font selection. The writing must look readable and at the same time, must be easy on the eyes. If you are finding it difficult to finalize a template, you have the following four options:
You can check these out for templates. If you need any help with charts, be sure you check out chartjunk. Read up on these!
Focus more on projection, delivery is mere a thing:
Too many advices out there on how your body language should be, how high your voice should be, the pitch, the hand movements, the eye contact…and the list go on. 
However, while obsessing over delivery and how you are saying it, we tend to forget one main aspect: projection. As I have said before, your audience in the work meeting is different than that of a TED talk. It is looking for straight-forward, clear information. Rather than engaging and having a positive impact, the long talks might actually destroy your credibility. 
There is no 'one rule fits all' formula for public speaking. You must keep changing them and alter them according to the nature of your audience. 
Wondering how to do a Presentation at work? Just be mindful of the following four things:
Perhaps the most important question. It should be the initiating point when you start planning your presentation. You need to create the content body of your presentation keeping the nature of your audience in perspective. 
If you are presenting in a professional office atmosphere, keep slides short and clean but filled with information. Make use of charts and graphs. It needs to look organized to stand out.
This should constantly be on your mind. Do not, we repeat, do NOT stray away from the topic too much. It can have a negative outlook. 
Speak about what you are supposed to. Your side discussions must be relevant as well. Stay away from making unnecessary jokes. Make sure you are addressing all the relevant questions and addressing all the related aspects without your audience asking for it. 
What to answer when a question is asked?
This part of the presentation is where even the most practiced public speakers tremble. At this part, you are having a direct face-off with your audience. 
Remember to think your answers through. You can make mini pauses to recollect your thoughts. Take your time to organize what is inside your head. Make sure that you answer is brief yet clear, leaving no loopholes. 
How to deliver the answer? 
The accuracy, articulation and clarity of verbal delivery is the key. Make sure your audience is understanding what you are trying to say. 
Still having trouble organizing your thoughts? You can use techniques like Rule of Three; Mutually Exclusive, Collectively Exhaustive (MECE) and the presentation design Principle. Research upon them and practice them for a flawless delivery.