Presentation Types
Keynote VS Powerpoint: Choosing between Keynote and PowerPoint – Comparison, Advantages, Disadvantages and Tips
Which one is better for you: Powerpoint or Keynote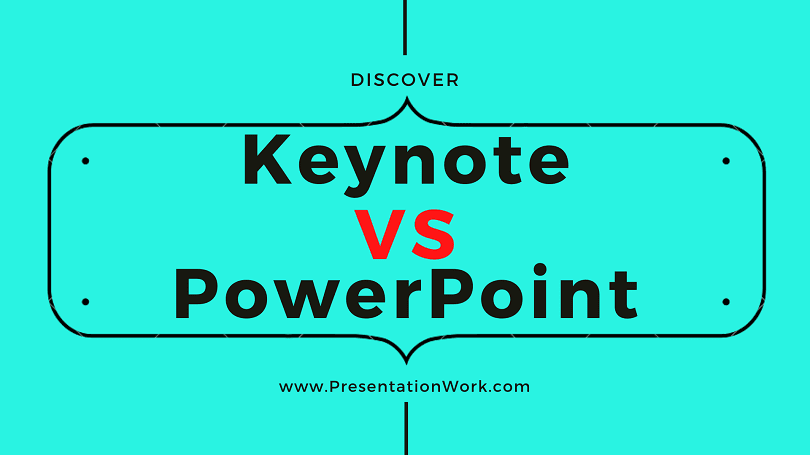 It is time to make your presentation now. You need to have the right presentation creating software that will help you to make presentation deck or make the presentations that you want for work. Below, we have given you a comprehensive comparison of two of the best presentation software. These are Keynote and PowerPoint that are readily available to Mac and Windows users. Each of them has its benefits and they are each suited to different tasks.
#1 Keynote
Keynote is a software for making presentations that are tailored towards Apple devices. It can only be used on iOS devices. When you use Keynote, you will be able to make graphical and classy presentations without having to focus too much on design. The tools found on Keynote are very easy to navigate and they bring out your creativity. Other than this, you have access to a slide navigator that gives you the option to design your presentation using various layouts, fonts, animations, and many other tools.
---
Keynote Benefits (Advantages)
Keynote and PowerPoint are similar in terms of functionality. The only difference is in the creation of slides. The pros of using Keynote include the following:
It has user-friendly features
It offers seamless integration with various devices, which means that you can make and edit your presentation on the desktop, phone, and tablet.
It has a basic setup that makes it for you to use elements to make your designs
It contains many design themes to choose from
It can incorporate all forms of media including video, sound, images, etc
It is free software on Apple devices
It comes with great transparency, animation and transition features that make your presentation appear natural and formal
It contains various photo manipulation features
If you do not like the templates in the designs, there are a lot of other templates available for download on Keynote.
It gives you an overall design that looks standardized and sleek
---
Cons of Keynote (Disadvantages)
Even though the pros of Keynote show us that it is an amazing software, the major problem is that it can only be used on iOS devices. The other cons include:
It is not widely used
If you have been using other software, you have to learn first on the basic features of Keynote
If you are transferring 3D effects and shadows from your PowerPoint software, it can fail to support these.
When to choose Keynote?
If you have an iOS device that makes you want to create presentations that are different, then you should definitely use Keynote. It is easy to use and it is free, as you will find it already installed on your device. It is, therefore, a great option for making unique presentations.
---
#2 PowerPoint
PowerPoint is the best software that is used in making presentations. The major comparison used between Keynote and PowerPoint is how easy each of them is easy to use. People who are already experts in using PowerPoint may find it hard to switch to Keynote.
This software was designed for Microsoft Office Suite though it can also be used on iOS devices. In addition, PowerPoint is more comfortable to use on the desktop, as some of the features may be limited on Keynote devices.
---
Benefits of PowerPoint (Advantages)
PowerPoint is the most powerful tool for making presentations. Most of the people do not even realize the maximum potential of this software. The full extent to which you can use PowerPoint depends on your experience with using it. You can use PowerPoint slide notes features that is easy to use as compared to keynote and some more of its pros include:
A lot of people have used PowerPoint at some point and this makes them understand basic usage features
You have a lot of themes and templates to choose
When using the entire Microsoft Office tool, you can easily integrate documents or spreadsheets to the PowerPoint.
It is easy to edit and you can easily drag slides and drop them to preferred location
When you have experience using PowerPoint you can use its advanced functions to make your designs magical
With the notes section, you are able to have additional information that looks amazing
You can easily integrate data and crafts to create your graphics
With the smart suggestions, you are able to create slides that are more appealing
---
Cons of PowerPoint (Disadvantages)
The complicated aspect of PowerPoint is what makes it inconvenient for some users. The cons include:
Photo manipulation tools can be hard to use
Multimedia features may fail to work if you make your presentation in a different computer than the one that you created it in
If you use a lot of animations and effects, the presentation will most likely end up with a bad design
The software is not free as you have to purchase it
It contains many unnecessary features that may be too complex to use especially for beginners.
When to choose PowerPoint?
If you are making a team presentation, PowerPoint is the best tool that can be used. It is also the tool to go for if you do not have an iOS device that can use Keynote. It is also the best software in an office setting because the presentations can be opened in almost all computers and a lot of people are also familiar with using it. This is also the tool to use if you are making presentations that need data and chart integration, as it is easy to add excel data to the slides.
Final verdict between choosing Powerpoint or Keynote
If you have access to both PowerPoint and Keynote, you should ensure that you get familiar with both software. This is because each of them can benefit you in ways that the other cannot. If you do not have too much data and graphics that you want to use, Keynote may be the most viable option. However, if you have numerical data and charts, then PowerPoint will be the best option in that case.