Presentation Tips
Preparing for a Presentation: Getting Ready to Deliver Presentation and things to do before Presentation
Distributing Handouts before Presentation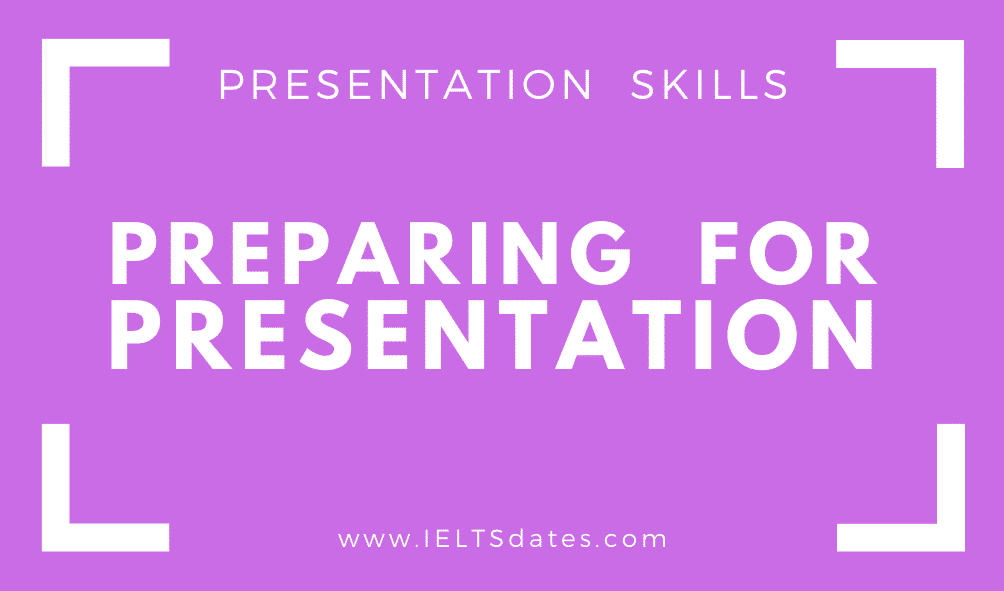 For creating a successful presentation, the only important thing is preparation. It is undoubtedly an essential foundation; the presenter should spend time on it as much as possible. By doing thorough preparation will make sure that the presenter has worked out carefully about the points that he/she needs to deliver in the presentation and this will help lift your self-confidence.
Things to consider before Presentation
When preparing for a presentation there are a lot of things that need to be considered. They consist of the objective of the presentation, the viewers, place, the topic, time, length of the talk. All of these things produce an impact over what you say and in what manner you say, visual aids used also get through your point.
#1 State Clear Objective
Every time you are requested to speak to the public or deliver a presentation, you have to go ahead by putting a question regarding the motive of the presentation. Particularly, what effects organizers and viewers are expecting, and what the presentation is likely to attain? Your presentation will be shaped by these outcomes. Since it should deliver the anticipated outcomes and should be planned in a way that it attains the objective. Let's say, you are requested to deliver a talk to a gardening club. You are told that the talk is based on a regular meeting of members of the club. The club members have uttered an aspiration to hear about pruning. Hence you know that you have to deliver a fairly light, engaging, but well-informed talk. You have to know that your viewers need to acquire something new.
When preparing the presentation, make sure to ask yourself: "How you can attain the objective and get desired outcomes by saying this?"  
#2 Discuss the Subject
Objectives give you the subject of your presentation. They are certainly not the exact same thing, but they are interconnected. Such as The association which has invited you may give you the subject; for example speaking to the gardening club about pruning. You are an expert in a specific field, and possibly you are interested in history. In certain limits, the subject can completely be of your choice. You may, for example, be requested to deliver a presentation at a meeting on a project. You might feel that this mainly advances your skills. 
#3 Know The Audience
Keeping in view your potential audience, prepare material for your presentation. Adjusting your talk according to the audience is significant and considers the following points:
The estimated size of the audience. The range of age – a conversation with retired people would be poles apart from one targeted at teenagers. Gender – would the audience mostly be male or female? Is it a confined audience or they came there out of their interest? Would you be talking in work or leisure time of your audience? Does your audience know a little bit about your topic already or would it be fully new to them? Is it part of the work of your audience? Are you present to enlighten, teach, motivate, or provoke? Can you practice humor and then what should be considered suitable? If you have any uncertainties about this, perhaps it would be best to avoid something even slightly at risk.
#4 Know The Place:
To know about the place where you would speak is an important thing. It would be helpful to get to see the place before the start of the event. If you could envision the venue when you prepare your talk it can suppress the distress. Though, even when you cannot go to the place, it would be perhaps useful to know:  
Size of a room; seating schedules such as, round-table, rows of seats, theatre-style; the accessibility to equipment, for example, laptop, microphone, and multimedia; the disposal of power plugs and an extension lead which you are going to use for some equipment; if there are curtains or shades in room. If you plan to use visual aids this would be applicable, and it would provide a correct setting for the presentation; the point of light buttons. If you want assistance from someone check it beforehand if you are going to use visual aids and have to turn the lights off; the chances of outside disturbances, for example, sounds from other room; and if the parking services are available or not, so you don't need to carry equipment you need on a long walk.
If these facts are available in advance, it can be helpful and gives you time to arrange.
#5 The Time:
The time of day a presentation is made will often not be flexible. Because of the possible state of your viewers, it influences what you could do and how you could form your presentation. 
How the time of day can affect your audience?
Morning:
Morning is a perfect time to talk as the people are usually at their highest alert. But as it comes near lunchtime, people start feeling hungry and losing concentration. This is absolutely true if the organizers didn't include a coffee break in the event.
Afternoon:
People start feeling exhausted and sleepy, after lunch. Straightaway after lunch if you are provided a slot it would be good to involve your audience. Presenting many slides will not work better than moving your audience or doing a discussion. Also, a flip chart can be more useful instead of a laptop and multimedia, specifically if you are using natural light and opening the blinds. People again lose focus just before the end of the afternoon, they start worrying about getting back home, picking their kids up from school or the traffic.
Evening or Weekend:
People are expected to be there outside their regular office time as they wish to be there instead of they have to be. In the evening, there is an enhanced chance of viewers' attention. Yet, if your talk continues too long, people may leave before you're done. The audience will not tolerate poor presentation as you are using their free time and they are not employees at that time.
Length of Talk:
Every time you find out the time for which you are required to speak. Check this out that either the questioning time is included or excluded. Check if other speakers are also there, and get information about your placement in running order. Never choose to be the last one. Be cautious of over-running, since it can be ruinous if you are being followed by other speakers. It is worth noting that it is difficult for an audience to continue focusing on a longer period. It is good to make your presentation exciting, crisp, and well-structured. Single-session of the presentation should be designed to be of a maximum of 45 minutes. If possible spare not less than 10 minutes for audience questions. Nobody minds if the session finishes earlier than the given time.  
Providing Handouts of Presentation in Advance:
Find out what information you have to give in advance.  Organizers of big seminars and events prefer to get presentations many days before the event. Meanwhile, they get time to load the presentations and ensure that they are ready for an event. Sometimes speakers' biography is needed in advance to put it in the literature of the conference. When you are going to present, ensure that what is required and when; then provide it. Your presentation would not be appreciated if you declare that the presentation was entirely revised in a rush. It is a possibility that organizers are not able to put up, such as if visual aids are supplied by the venue or a separate company.
If you are requested to present it is an honor, not an inconvenience. You represent your organization or yourself if you are an entrepreneur. You are there for being invited not by your right. It is essential that you put your effort to make sure that you are delivering what your viewers wanted to see. In that way, you might be invited back again for another talk.