Presentation Rules
Scientific, Academic and Research Presentation Making Principles – 8 Rules for Making Research PPT
8 Tips to deliver Memorable Scientific and Academic Presentations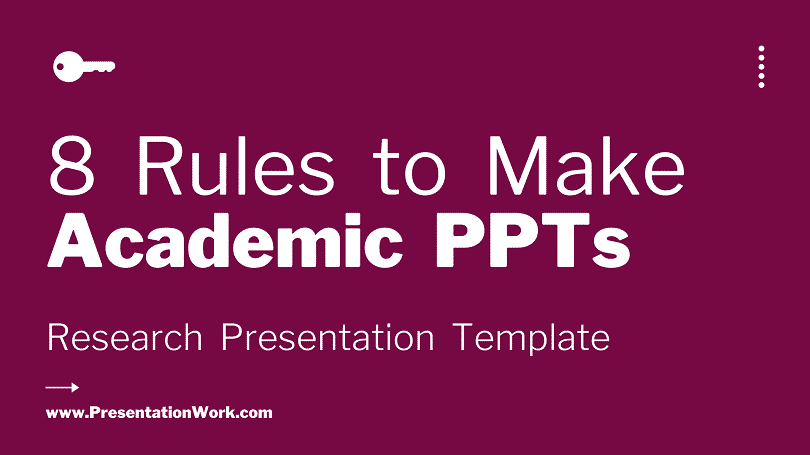 Have you ever attended an academic presentation as an audience? If you have, you may have noticed that if not most but many of the speakers look dull. And when the audience feels bored, they sound like they did not listen to anything and tend to forget everything that the presenter has told them.
To ensure that your audience will not feel bored, we have the following 8 tips that will help you to make your academic presentation interesting and memorable.
#1 UNDERSTAND THE GOAL OF YOUR PRESENTATION
The first important part is that you must know the aim or goal of your presentation so that you would be able to prepare your presentation correctly. Generally, there are two main goals of an academic presentation that the presenters want to achieve:
Goal 1: The first one is to inspire your audience and motivate them to read your paper. Usually in various conferences, presenters get only 10 minutes to present themselves. Your research paper would hardly take 30 minutes to read and so your main goal becomes to inspire your audience within 10 minutes and you want them to read your paper. Do not go for a lengthy speech rather present your presentation like a movie trailer. It must be a short and brief part that has to come as a whole.
Goal 2: The second one is to build relations with others in your field of study. For instance, if your aim is to discuss something with your audience members, so after your presentation you will have their introduction and then you will ask them to give feedback that you want from them. You may ask them what you should be doing next or what factors might emphasize the results you got. In this way, you will connect the audience with you and the discussion will carry one after your presentation.
#2 Keep your data up to date
What you are presenting before the audience must be up to date. Do not use the old data. Like sometimes 6-12 months are passed after the submission of the research paper. So in this period, you need to do more research to find the latest data to present in your academic presentation.
Best memorable academic presentations are those where the presenters present the data that has been found just after the paper's publishing. Do not assume that you have to stick with just one academic paper, rather than that, you need to include most up to date research in your deck.
#3 USE A PROVEN FRAMEWORK
When you get started making your presentation, it is important to use a proven framework that will guide you to prepare your presentation in a good manner. It is okay if your presentation deviates slightly, it happens with various specific fields. All the fields follow the following presentation outline which looks like this:
Introduction or overview

Research questions or theoretical framework

Case selection or Methodology of your research

Background or literature review

Results or the discussion of the data

Analysis

Conclusion
You can use this structure for your academic presentation. When you want to prepare better research paper presentations, you can use the same academic presentation outline.
#4 PRACTICE
You need to be prepared for the presentation you are going to present. You will not have the best presentation if you have not practiced it before. So make sure to take time for a better practice. Ask your family members, friends, and colleagues to listen to your presentation and give some feedback if you need improvement. If no one is around you, you may record it while giving your presentation and then you can watch your own recording. Keep in mind that you are listening to it as an audience.
Now you would see how you spoke during the entire presentation. Did you look confident or dull during the speech? Were you looking for your audience's entire presentation or not? Were you interested and excited to share the message you had?
Do not make the mistake to memorize the whole presentation. It will be totally useless. You simply need to be familiar with the content and the structure of the presentation so that you will speak out naturally.
#5 STICK TO YOUR TIME LIMIT
When you are preparing your presentation, you must know the time frame of the whole presentation. You have to keep this allotted time in your mind. If you have been given only 10 minutes to speak, you will have to take not more than 14 minutes or less than 6 minutes.
There is a good rule of thumb. It says that each typed, double spaced page hardly takes 2 minutes to speak. So for a 10 minutes presentation, you must prepare 5 double spaced pages, not more than that. And for a 10 minutes presentation, you must not include more than 20 slides.
#6 DO NOT OVERLOAD YOUR PRESENTATION SLIDES
You should remember the fact that the slides you use reflect the quality of your presentation. Do not put a lot of text on the slides. The audience cannot read the whole text and if they start reading it, they will not listen to you.
It is a good idea to add images to your slides. Researchers say that adding visual content to your presentation increases the learning ability of your audience and the presentation will be memorable for them. So, if you want to make your presentation memorable for the audience, you must have to add images into your slides.
#7 DO NOT READ YOUR OWN SLIDES
Throughout the presentation, you must have to keep eye contact with your audience. It will keep your audience engaged and concentrated. You cannot keep eye contact with them if you are busy reading your notes or slides. It is not necessary to memorize the whole content of your presentation. But you must know the stuff you are going to share with the audience so that you can speak confidently and look at your audience at the same time.
#8 BE OPEN TO QUESTIONS
Mostly it happens that at the end of the presentation, there is Q and A session so that the audience would ask questions if they have any doubts. This part of the presentation makes a great impact on the minds of your audience. Do not think that a question will be a challenge for you but in fact it is just a question.
For example, among your audience one member asks you "Why did you choose methodology B instead of A"? It would make you think that they are saying "it would be better if you have used methodology A." but actually it is not right and the fact is that they want to learn about the basic facts and benefits of the methodology you used but they are unaware of them.
It can be a challenging task to give an academic presentation and needs great effort. These 8 tips will help you give a memorable presentation to your audience.