Presentation Skills
Start off Your Presentation with these 20 Powerful Strategies – Examples of Starting a Presentation included
PRESENTATION TIPS - How to Start a Presentation Tips and Tricks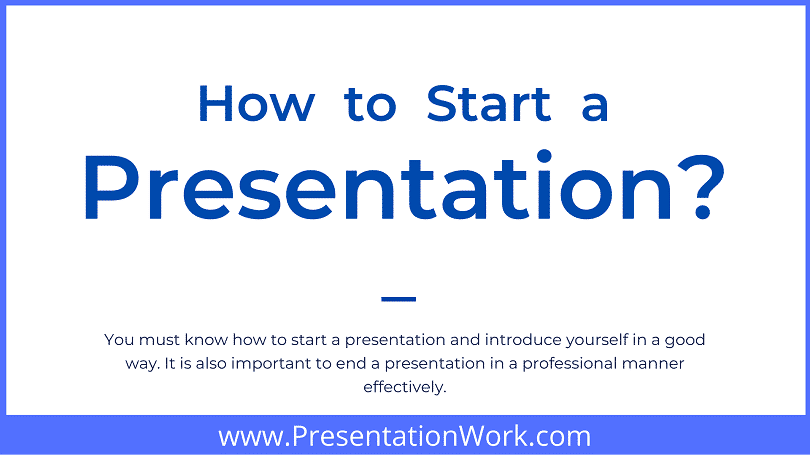 You must know how to start a presentation and introduce yourself in a good way. It is also important to end a presentation in a professional manner effectively.
The most effective part of the presentation is the starting point of the presentation that makes the first impression on the audience. It will either break the attention of the audience or capture it fully. There are many ways to start a presentation that will make your audience's minds and hearts engaged. This way you will convey your message effectively to your people.
The presentation content selection, design and slide management play an important role to grab the attention of the audience. The way of delivering the content is equally important.
There are 20 powerful Presentation delivery strategies also called tricks and tips which can be used by salespersons, marketers as well as by common people to start their presentation in an effective way. There is a list of 20 tricks for you to know in order to begin a presentation. If you will watch a video comprised of the content relevant to the beginning of the presentation, you will be able to understand how to begin a powerful presentation.
You really need to get the attention of your audience from the very beginning of your presentation. It is the most important thing one can have while starting a presentation. At the beginning of the PowerPoint, or Keynote presentation, you would introduce yourself and complete the introduction in the starting few minutes, if you are losing the attention of the people at the beginning of your presentation, you will not be able to gain it in the middle. You have lost your people. Always remember to get the attention of the people to whom you are presenting your presentation. You may choose between PowerPoint, Prezi, Keynote or Google slides to create your awesome presentation as all of these tools are top ones.
20 Tips for Starting a Presentation with a Blast!
Following are the tips to start a presentation in an effective way:
 Welcome Them with A Thank You
It is important to remember the formality that you have to welcome your audience while thanking them. It will show appreciation and honesty and sincerity that will create a sense of community with the people. For example, if you welcome your audience while paying thanks to them, it will provide them an opportunity to speak and share their ideas and thoughts friendly and confidently.
Memorize Your First Opening Line
It is not always a good thing to memorize the entire speech you are going to deliver. But it is good to memorize the starting 5-10 sentences of your presentation.  It is a good way to speak with confidence and continue your presentation with good confidence. Many officials use this method in their presentations to convey the message. For example salespersons, marketers and other officials use this approach along with slides to deliver their message. As many people think it a good way to continue a presentation.  And it is really true that the presenters usually memorize the beginning and end of their presentation and practice their talks. It is one of the professional methods you should practice and use it for your own presentations.
State the purpose of your presentation
It happens generally that your audience knows why they are there or they know the purpose of your presentation. But you may want to make sure that either they know the purpose of the gathering or the presentation.
For instance, if as a sales office you want to gather people to get a leasing project of a building or to win a marketing assignment somewhere. As you start pitching the team of the owner's management, they must be able to know that you are there to talk about the market and leasing the buildings and the basic purpose of being there is to help them in this regard.
You can also use another trick and it changes the purpose and says ''we are here to discuss the capabilities of our team but it is more important to discuss the tips and tricks that you can implement and how they can be effective in your lives.'' If you know the purpose of your presentation, it will give you a strong point to go with your presentation and the audience will also continuously be alert and attentive.
State how you want to deal with questions
Do not forget to engage your audience through handling questions. Let your people know how you handle their questions. If you are going to give a presentation related to sales or marketing people, this would not work well. You just have to give time to them to ask questions when they do not get things. We all feel awkward when everyone is silent in gatherings. It is a very good thing to incorporate the silence situation into your presentation. You can use it to make your audience attentive that what you are going to share next.
Start off by Cracking a Joke
When the audience is silent and as being a single speaker, crack a joke and make your audience laugh. It is a good approach to entertain your people. Even marketers and salespeople can also use this trick to elicit laughter from the audience. This is a good way to get connected with your audience and to lighten the room. Avoid telling jokes to your audience continuously, it will deviate the main purpose of the presentation but this technique can be used to begin any presentation effectively.
Start Your Presentation In Future Or Past
When people start their presentation, they use this approach in their stories. The presenters will connect a scene from the past or with the future and then they use to connect it with the main story of the presentation. This is a very useful tool to build the attention of the listeners or viewers and if you are giving a presentation to people, in this case, it would be your audience. There are ample of examples related to this case. The marketers can use the approach in displaying the activities of the market form past experiences that shows how the tips and strategies would impact the performances.
It is also one of the great ways to quote someone when you are starting a presentation. But the quotation must be relevant to the speech and presentation you are presenting. And if you are using slides for your presentation, add the pictures of the person of the quotation, it will make your presentation more attractive and will add the breadth to your presentation. You may insert a visual quote in a presentation slide in beautiful design as you can learn how to design a beautiful presentation slide here.
Open Up With Being Vulnerable
It is a fact that good speakers can be tough and strong in speaking but the ones who share about their lives and their stories build a great connection with their audience. If you begin your presentation showing your ability to share your critical experiences, it gives a greater possibility to maintain the connection between the speaker and the listeners and obviously it will maintain the interest and attention of the people who are listening to you.
Tell Your Audience A Story
While presenting the content of your presentation tell a story to your audience. Storytelling is one of the best ways to connect with your people. You can begin your presentation with a story and then connect it with the purpose of the speech that is why you are there with them. Many expert speakers use this technique and it makes them become one of the most effective presenters.
If you are giving any presentation for business purposes, it would be a great strategy. You might not want to deal with negative stuff but if you are thinking about the problems that the organizations have not thought about them, it could be more effective than just stating the challenges they already know about. Including Steve jobs and other good marketers and salespersons use this strategy on a daily basis.
 Point To Their Opportunity
Discuss the challenges and problems of your audience and also discuss the opportunities they might face. Build confidence in them that whatever you suggest them, by following you they will get their wants. Make sure the benefits they could achieve by following you. This would increase the optimism level of the audience and they will be attentive and get engaged quickly throughout the presentation.
Ask Questions (Direct or Rhetorical)
When you are starting a presentation, you can ask questions at the beginning of your audience. It is one of the great ways to make your people attentive and engaged and get you more connected with them.
Video showing has been a very powerful tool to start any presentation for a very long time. As in industry, some people have used this mechanism at a Custom show. They asked different presentation experts about their opinions on the video. They all responded that video is an important tool to get a good start but it should be used very carefully. You must keep in mind that you are using video to clarify the message of your presentation not to overtake your message.
There can be a lot of various ways to shock your audience. You can choose a funny video to show your audience but make sure the video you are going to show them must further elaborate on the purpose of your presentation, discuss something that is opposite to the thoughts of many people and make fun of something. As it is well said that the sky is the limit. But do not forget to be smart and think about how you will shock your audience through your jokes. It is also possible that your jokes and fun make offend most of the people in your audience.
People believe in proves and without proof, people do not accept facts. For this purpose statistics and data play an important part to have a good impression on the audience. It is one of the critical strategies that are not only used at the beginning of the presentation but is also very important throughout the presentation. Numerical data or statistics can be very boring for the audience but this tool portrays factual information and it can help you to make your audience understand easily. It can be a powerful tip whether you are using them at the beginning of the presentation or at the end of the presentation.
Use These Words: "Imagine, Think of, Close Your Eyes"
Many speakers use this mechanism and compel their audience to think or imagine about some object or a thing. It is another powerful mechanism to engage your audience. This trick can be used in starting off your presentation.
Use The Power Of "What If"
At first, you must be able to know the power of ''what if'' and then use it in your presentation too. Like what if you already knew how your presentation will start and grab the attention of your audience? What if your audience is really connected to your presentation and get the message you want to deliver? This is a powerful phrase and it gives the sense of doing things or getting things exactly if you follow your message or your lead. So you must know your purpose and using it can be a great thing to capture your audience.
Show of Hands – Poll The Room
There is another important mechanism that can be used by many presenters. Through this tool, they can create great commonality and a context. This tool is using ''show of hands''.  As if you are asking your audience a question, you want to get participation from each participant. Using a ''show of hands'' question you can engage your audience and know the engagement level of your audience.
Project And Speak From The Gut
Let us come towards the formalities that would help you to maintain and grab the attention of your audience. If the audience is unable to hear you because you speak in a very low pitched voice, you will lose your audience. Speak from your guts. It means you have to speak with a little high pitched voice while considering the strength of your audience. You need to high your voice pitch that will definitely add more volume and breadth to your speaking from the very beginning. But usually, it is overlooked by many speakers. It is one of the most important tricks a speaker can use in his or her presentations.
Eye To Eye Contact With Audience Members
If you are one of them who gets nervous while going to speak in front of a larger crowd, pick different people from your audience and start speaking to them directly that can reduce your nervousness. Start using this trick at the beginning of your presentation. Picking different people and speaking to them who are present in the room is a good trick. It will make everyone think that you are speaking directly to them.
We would really love to hear from you other than the above-mentioned presentation beginning tips and tricks. What you have been used till now? There are many other tricks and strategies that are being used by many presenters but here we have mentioned some of the 20 most used and powerful tips that have been used by the presenters over many years and you can use them too in your presentations.
If you are interested in software for presentations, you can watch the custom show's video that would help you with your presentations. And if you want to get more information about more tips and tricks to start your presentation, you can get them from the Sales Graphics too.