Presentation Tips
Take your Presentation Speaking Skills to the Next Level with following 10 Tips
10 Effective Speaking Tips to give a Wonderful Presentation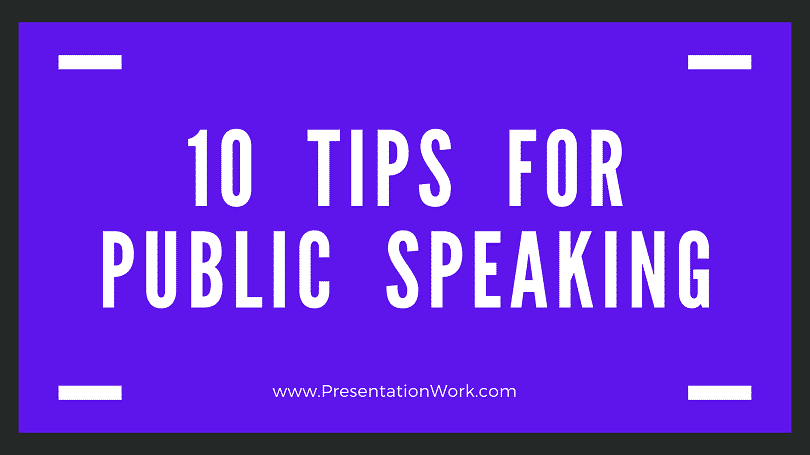 To present something in front of a huge crowd in a good way is really difficult but delivering the message effectively is equally important.
You might have heard the phrase public speaking, it is not only associated with people whose job is to speak more like teachers, professional salespersons or another profession that needs speaking skills. But the fact is that all of us shall get an opportunity to speak in front of the public.
If you think you are standing in a familiar area where you use to give lectures and you are having the same audience, it won't feel like you are doing public speaking.
 Public speaking appears in various forms. It includes job interviews, teaching your children and their friends to fix fishing baits and to grab the attention of the public for a short period is also included in speaking.
Public speaking is not easy; people feel fear and anxiety when they start speaking to the audience.
If you are one of them who get confused and nervous thinking about public speaking, no problem, you are absolutely normal.
It is possible to remove that stage of fear.
It is a genuinely awful situation that you go in front of a crowd and you awkwardly feel froze and unable to deliver your speech effectively, But it is okay, we all do experience the same. You might have done that. You can move on. 
It is not really a big thing. The audiences will help you to get back to your track and you can continue. Any individual can do that.  But it needs you to know some tips and prepare fully before going in front of the public. So there are ten effective tips for effective public speaking.
10 Tips for Effective Public Speaking
Observe Other Speakers
When someone is speaking before a crowd, observe him carefully that how he speaks while he is in action. Whenever meetings are held around you, go and attend them. Try to watch videos of public speakers. You can find good stuff for lectures at school and college billboards as well.
When you watch different public speakers speaking, your mind makes a sort of feedback about them. Like if you listen to Ian of Razor social, you would surely praise him who is really a fantastic speaker and you would wish to speak like him. But some speakers are also out there; by listening to them you may think that you are good too and at that moment, you absolutely feel good. You desire to work with them and want to gain the level of your aspirations.
Relax
 As it is mentioned above that no matter how bad your public speaking becomes until you are not violating the framed policies of an organization. The audience doesn't remember those speakers who do not speak well and it is not a good thing for the sales profession but it cannot end your world forever.
Sometimes public speakers get a couple of presentations to speak on a daily basis and they prepare their presentations according to their schedule. Few go on the stage with a presentation that has been prepared within few minutes because they do not have much time to prepare it fully and it makes them really worried. If you are one of them who do not prepare the stuff fully before the presentation and you are watching Pat Flynn, you would definitely feel embarrassed. Like you are making a presentation within an hour and pat will be consuming 70-80 hours continuously to complete a 45-minute presentation. Fortunately, if you get a chance to meet Pat, he will surely advise you to be relaxed. Just focus on the content you are presenting not on the consequences and other people but unless and until your words do not bother the audience or something like that happen. Different Public speakers have different natures. All speakers use a different kind of tactics. For instance, if you compare yourself with Pat, he would be a totally different guy from you. Some might feel fine if they are relaxed and aren't worried about anything except the actual stuff of your presentation but for some speakers, it might not be the same situation.
Arrive Early
 You must not think that a specific space will be provided for your presentation to present, it will never happen.
You shall face huge problems if you do not reach the place where you have to present your presentation, for example, there may be fewer chairs available for the audiences or missing computers or computer cables, etc. You must check whether the atmosphere is suitable for the presentation and must see if the pass badges are available where they are needed at the conventions. It is also needed to set the seats in a proper way for the people who are supposed to be there. You really need to be there to manage all this. Reach early and get ready with full preparation. Once we watched Chris Ducker while going to bat for a huge crowd of audiences and they were informed that there will be a space problem for the people where he had to give a presentation. He reached early and helped all the people to get in the room. The audience enjoyed the whole session while tweeting good things about how he managed the situation.
Thus, you need to be there to address the issues on behalf of your audience and to settle all the other problems smoothly before starting the presentation.02
Know Your Audience
It is very important to know your audience what actually they want to get from you. It would be very beneficial for you to know all this before presenting the stuff and it is not going to happen easily but you can do it much better and present things specifically if you know your audience already. 
If you have much time, do research on specific areas and observe the population who want to get information from the internet on specific things. Choose those topics and present stuff about them to the audience. Present it according to the average age and income of your potential listeners. Do observe the gender gap needs or set your people if you want to get both as audience and also focus on the other topics that are unknown to your target audience and they want to get more knowledge about them. You will feel definitely comfortable if you are presenting the content to the people who can understand you easily. For instance, if your audience comprises of military and veterans and your presentation is about them so you can use their language and related jargon because they are able to understand you. It would be really difficult to make them understand if they are not military and veterans.
Engage Your Audience
You got to know your audience, now you need to engage your audience.
Discuss things in which your audience takes interest in them. If you want to get their constant concentration, give examples about their personal lives so that they would participate actively. To engage your people to prefer to use the word "you" instead of ''they'' or ''I''. It is an effective way of using speech while speaking to public.
Do questions and answer sessions frequently. Use gestures and eye contact effectively so that the audience's concentration would not deviate.
If your eye contact is strong and you talk to them, they feel that you are directly targeting them and it does have a very powerful effect on them.
Try to give your audience as much information as you can that could also be accessed on their digital phones while using the internet. Attention can be gained this way too. 
Bring in Stories
The audience concentrates carefully on the lecture if the speaker creates a connection with them by creating personal examples. It connects people with the speaker effectively.
Speakers prefer to use interesting anecdotes to get the concentration of the audience and to make the presentation more interesting.
But it is necessary to keep the anecdotes short and related to the topic you are presenting. Don't make it longer and you should know the whole story, you are going to discuss it with them. You should be able to resist the unrelated stuff at the moment.
Personal instances must be brief and it must have a meaningful message to deliver for the people. Long stories make the presentation uninteresting and boring.
Be Vulnerable
It is really complicated for many speakers to talk in front of a huge strange crowd and to build personal feelings with it at once is not easy.
Good public speakers are the ones who present the best presentations that keep the audience focused and maintain a personal connection with the presentation. It is human nature that if you share about yourself willingly, people connect you with themselves and it creates a feeling of a strong connection.
As a public speaker, you can talk about the current social issues that might gain strong attention, for example, suicide cases and many other social problems. Try to keep giving awareness about them to the people that is needed for every individual to overcome such kind of issues.
The aim of the lecture should be to get the audience really involved with the content instead of impressing them. Make them feel that you are talking about very serious stuff and you do care about and the audience should too. Usually, people get serious and committed to the things they really care about. People connect their experiences with the speakers' life stories. 
It is not important to always present serious stuff but you need to discuss things that are vulnerable and relevant to the presentation. It can be an effective way to surpass it.
Move Around
Whatever is the space for the presentation, use it fully. Don't just stay on the stage or limited to the dais.
You must use strong gestures when you are talking while moving around the audience. It makes you look energetic and confident. In most of the business gatherings, it happens which offers the listeners to feel a different thing and to get them out of usual practice. 
A public speaker shares his own experience that he did a presentation with John Dumas of Entrepreneur on Fire that comprised 20 people in a small area. When they all reached there, they arranged all the seats in a circular form and at the center kept one hot seat that people could take at different points in the presentation.
This sitting arrangement helped the audience to listen to the speaker comfortably who talked up on the stage and it made easy to get one on one advice from the audience with a great achievement. It was a great experience for all and that is why he got appreciated by the audience and received great feedback from them.
Have Good Questions
At the end of the presentation, conduct a question and answer session. It needs the audience's participation and attention and it may go a little long.
Sometimes all the attendants may have different questions but sometimes one of the audience may have very complicated long questions that others do not really care about. It also happens that you do not get any questions at all throughout the whole session.
It is good to be prepared for the last moments of the speech. Prepare some important questions, when you need to ask, you may pull them out. By asking those questions you will break the silence where everyone is bored and awkwardly silent. 
Stick Around After the Presentation
When you come down off the stage, arrange some time to meet your audience. You will feel very amazed when you greet the people, who were really excited to meet you. Some may wish to shake your hand and some approach you to discuss some specific questions. Some come to you to pay gratitude to you.
If you don't have much time to discuss all the questions and people want more conversations with you, you need to bring business cards and distribute among them and schedule a gathering later or you may have contact with them through using exchanging emails.
Your audience will always remember how you conducted the session but they may forget what you conveyed.
Your time is the most important asset. Give time to your audience and utilize it effectively. Treat your time as a very valuable resource and also pay thanks to those who give the time of theirs to you.
Now you can go out and speak confidently in front of the public.