Presentation Skills
Ways to Introduce Yourself in an English Language Presentation – Presentation Skills
Organize Your Introduction for a Presentation in English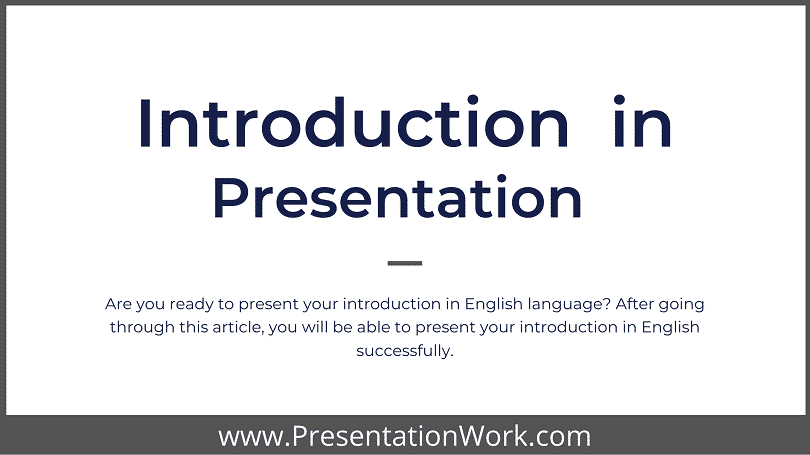 Here in this lesson, we are going to learn how to make a powerful introduction and present it in English. Are you ready to present your introduction in English language? After going through this article, you will be able to present your introduction in English successfully. 
How to organize Your Introduction for a Presentation in English
But firstly, if I ask what you think about presentation, you might be thinking about something like a presentation at a gathering or at a conference, or like a TED video. You might be thinking about a speech or a presentation with PowerPoint slides presenting in front of a big crowd.
But are you aware of the fact that you use the same skills when you are sharing new knowledge of thoughts and ideas with your work colleagues? Or when we discuss different stories with our family members or friends? The speaking task and circumstances may be different but we do use the same skills to explain our stories and experiences.
Things to follow while Presenting a Presentation:
Grab your listeners' attention

Share your thoughts, opinions, and ideas

Discuss first what is important

Make your given ideas and information memorable

Impress your audience (family, friends, colleagues or strangers) to agree and make sure to take some action while changing their minds, etc.
So today you will be going to understand how you will start the first important step in your English presentation that is how to begin your presentation with an attractive and great introduction.
The presentation has various important parts. The introduction of the presentation is one of the most important parts. Your introduction will give the first impression to your audience. It is the initial step to attain the attention of your audience. As a speaker, you want to make them your active attendants and you really want to make them trust you. 
Anyhow, it is the hardest task to start speaking at the first moment in front of a public. If you know what you will be presenting to your audience and you are well prepared, it will make you more confident and will be able to begin your presentation in English effectively.
How to Organize Your Introduction for a Presentation in English and Key Phrases to Use
#1 Organize Your Introduction Correctly 
First of all, you really need to focus on what you want to add to your English language presentation. Focus on this tip first and then use it as a formula to start a good introduction. You may use Powerpoint or Keynote slides to deliver a nice visual presentation as well. It will help you to prepare for your presentation. It is a sort of brainstorming and you will be able to know who you are, what you need to know more about you, why you are good at something and what do you expect from your audience and how your presentation will bring a positive change in your audience. This all will help your audience to know more about you.
#2 Grab the attention of the audience
First, welcome your audience and then introduce yourself

Try to grab the attention of your audience as much as possible

Make a clear concept about your most important goal or your main topic of the presentation

Present the whole outline of your presentation or topic precisely and quickly.

Tell the instructions that how they will ask questions if it is suitable for your situation.
#3 Make it easy to understand
It will be useless if you use complicated language and the audience is unable to understand you. So it is a simple outline that you need to use very simple language for a presentation in English to make your audience understand easily. Give attention to the expressions you want to use in your presentation. This trick will help you know what you are going to say and how you will be presenting. It will definitely show you confident and well prepared in your English language presentation.
It is obvious that the introduction is the most important part of your presentation. Your audience will judge you how you are going to start your presentation. It is the one that builds the first impression on your audience. By giving an impressive introduction, you will get your audience's attention. And of course, you want them to believe you and listen to you carefully.
#4 Welcome Your Audience & Introduce yourself
It is a good way to start your presentation very politely and warmly. It will be great if you give your audience a warm welcome and then introduce yourself. Everyone in the audience will want to know about you who you are. Your introduction should not be too lengthy. It should include your name, your job position and why you are an expert in your topic or field. The information you are giving must be authentic so that your audience will trust you. The more they trust you the more they will listen to you.
#5 Capture Their Attention
To get more knowledge about how to get the attention of your audience and why it is important, please do consult the next session. Anyhow, here we have some good phrases to start your presentation.
Examples:
Do you know about that (share some interesting information, fact or some shocking news)?

Have you gone through the (Give them an interesting statement or a shocking fact)?

Before starting my presentation, I would like to share a very quick story with you guys (share your story).

I do remember when I was (share your experiences, story or a memory). 

When I was preparing for this topic, I got reminded of (Share your thoughts, story, quote or your experience).
#6 Identify Your Goal or Topic of Presentation
At this step, you must know what your primary goal or topic is and you must clear it to your audience too. Do you expect that your audience will take action after your presentation? Is this one of the topics that your audience wants to know about or it should be a thing that must create curiosity? This must be covered within one or two sentences and it must be very clear to your audience.
Examples:
This morning or evening, I would like to present our new (brand, product or service).

Today I am going to discuss…

Today I would like to discuss this…

Today I would like to share with you is…

Today what I want to share is….

My today's goal is to make you understand….

During my presentation this evening or morning, I will give you some background on (your main topic) and why it is important to you.

I will share my research findings today are…

By the end of my speech, I want you to know…

I want to change your minds/ I want to prove about….

I would like to use this opportunity to discuss with you about is….

You may know about the thing, this morning/evening I shall be explaining is….
#7 Outline Your Presentation  
You may know already this about an English language presentation outline creation and the following are some general tips for you to follow:
First of all, you will tell your audience what you are going to tell your audience. And at the end of your speech, tell them what you shared with them.
It might seem very strange and crazy, but it is a fact. This is the right way to make presentations in English. So, today we are going to focus on the ''First, tell your audience what you will tell them'' part of your presentation. It means you are outlining the key or important points of your topic or presentation. This way, you will prepare your audience to have attention and will be active. It will also help them to follow your message and stay alert.
Here, we have the following good phrases that will help you to gain your audience's attention:
Examples:
First of all, I am going to share… Then I will discuss it with you… And finally, I will be asking you….

The next topic I will be presenting is…

In the next topic, I will show you…

Today we will be completing the 3 or 6 main points…

In this section, we will elaborate/discuss…

At the end of the speech or presentation, you will be able to know…

My presentation is divided into various parts… First… second… third and then finally…
#8 On Asking Questions
You need to make sure to your audience that when and how it would be suitable for them to ask you questions. For instance, is your presentation formal or informal? And will it be okay to ask questions in the middle of the presentation? Or do you want your audience to wait unless the ending of the presentation to ask questions?
Examples:
If anyone of you wants to ask any question, do not wait until the end of the presentation. You may ask it at any time. I would really be happy to respond to your questions.

 Do not hesitate to ask any questions, feel free to ask until I give instruction to wait for the end of the presentation.

You may ask as many questions as you want at the end of the presentation.

It will be a good thing if you have any kind of question now and I would be happy to answer your questions.
#9 Learn from the other famous speakers
Do you know how to grab the attention of your audience? If you are unsure about it. No problem! Here we have some general instances which are used in an English speaking culture and you can use them too to make your presentation in English perfectly.
You may know about the two famous speakers in the world, those are Steve Jobs and Oprah Winfrey. Steve Jobs is loved by many people, they still like to watch his speeches and online presentations but unfortunately, he is no more in this world. Oprah is also a famous speaker. Whatever she does for the audience, people are really excited to watch her and listen to her.
If you will listen to the speeches of both speakers, Steve Jobs or Oprah Winfrey. They both have worked hard to get the attention of their audience. They both do not begin their presentation with numbers, data or statistics. They do not start it with a general fact, statement or with the main presentation title. Rather they do much more to grab their audience's attention. They have always shared something new to get the attention of their audience. Therefore, from the very beginning of their presentations, they really want to get attention and want their audience to listen to them carefully. And they think and find about the very interesting ways to get their audience activeness and attention. In most of the presentations, Steve Jobs has usually started his presentations while sharing his personal experiences. And Oprah begins her presentations with an interesting and inspiring quote or with a motivational statement of a speech or poem and she starts her presentation with a personal experience.
Whether your presentation is comprised of 3 minutes or 30 minutes, there are various great methods to help your people to listen to you immediately.
#10 Here is how you can do it.  
We got to know what did Steve Jobs and Oprah Winfrey did at the beginning of their presentation:
Shared personal experiences and stories

Used Lines from a book or poem or gave motivational quotes

Inserted jokes but you must be careful about your jokes that should not offend your audience and your people must understand them easily.

Tell a shocking and bold quote or a statement that will shock your audience. For instance, remember Steve job's quote: "stay hungry. Stay foolish."

Ask those questions which might urge your audience to think the answer but you as speaker will not give the answer and the focus of asking those questions must be to make them think.
And the last thing which is very important and it is to focus on audience participation. Ask your audience questions and give them an opportunity to participate. Give them the instruction to participate in the question-answer session while raising their hands.
If you want to get the complete English Presentation Learning Series, you may consult the following links:
As it is already been mentioned in different videos that you may have seen. Today, there is a couple of questions for you. Those are:
What kind of introductions you have ever heard? And what is the best ever introduction of the presentation you have received till now? Have you watched a great presentation on YouTube with a good start? Or have you ever watched a TED talk? If you have been through this all, please share it. What did you like about the great introduction?

What is the thing in the introduction of your presentation that frightens you the most while preparing it? Please discuss your fear and problems. I would be happy to overcome your problems by sharing tips and tricks with you.
Do not forget to share your problems, thoughts or ideas below the comment section so that I will give feedback to you and you will get an opportunity to learn more from other English language communities as well.
Have a nice week!