Presentation Writing
Writing a Presentation: Overview, Core message, Story telling & Conclusion of a Presentation Writing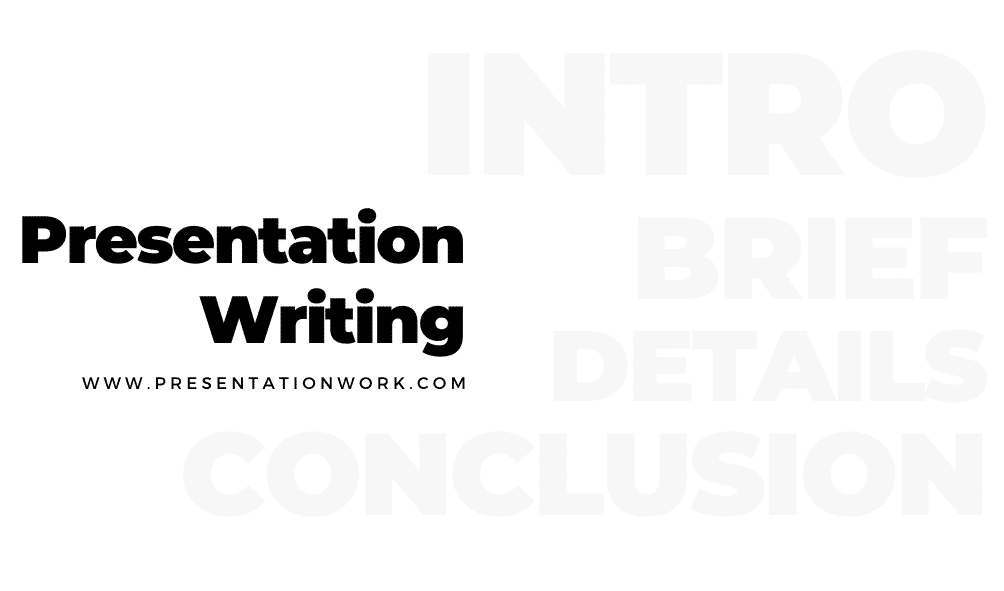 Very few people are contented while writing a presentation. The process of putting your views on the paper or slides on a computer is a very frightening thing for a lot of people. Still, there are certain things that could be done to relieve you. This includes taking out time to ponder what you have to say and getting yourself familiar with the material.
This article provides assistance for writing a presentation. It will discuss initial writing and enlightens how to edit and review your work. This will make sure that the presentation is effective one.
Before you start writing your presentation….
Before starting to write a presentation, certain information is needed: the topic, the aims, and audience details. Based on the gathered information, you must start developing ideas and choose the key points to add.
Some basic starting points
When you start writing a presentation two things are really important to remember:
Make a presentation having an overview, a core message, and a conclusion.
A number of people encapsulate it as 'overview of what you would say, say it all, and then conclude what you said'. Though, this is not the complete story. Your introduction should be giving a general outline of what you would be covered in the presentation and must be 'setting a scene'. If it is being done through PowerPoint it should be covered within a single slide. The conclusion should be summing up and presenting the message to your viewers, within a single slide. 
Here is the Golden TIP!
After the presentation, if you take questions and PowerPoint is in use, then you will most likely have a slide active on-screen throughout the questions. You can have a concluding slide saying "Thanks for listening, any suggestions?", or provide contact details. Though, the last slide can highlight your conclusions. This makes sure that the key message persists in audiences' minds.
To get your message across use stories
In order to listen to the stories, for thousands of years of evolution, we have been hard-wired. The reason we survived is because of stories, as they remind us about the important behaviors. We remember them much clearly than dry listing the facts or bullet points.
Two aspects of this are there.
First, think like you are going to tell a story to the audience in your presentation. What point are you addressing, and how could you get it through the finest?

Second, it is good to add stories as a presentation part. Let's say you started with a story or narration, it will hook your audience to your presentation. Stories can also be used to demonstrate points you are trying to make. This is obvious that the main message has to be linked with the story because it is definite that the audience would remember the story more than the conclusion!
Structuring Your Presentation
The content and structure of the presentation will obviously be exclusive to you. The best approach to deliver your message could only be decided by you. Still, some typical structure of presentation may be considered for motivation:
Harnessing the Power of Three
In speech-making and linguistic debate, besides in excess communication, a magic number is three. It is quite easy for the brain to hold three points simultaneously. People can easily conceive and remember three numbers, ideas, or points than more than that. Therefore, you can structure the presentation with magic number three. For instance, the presentation should include three main components: introduction, main message, and conclusion. Divide your main message into three elements and develop these points to three sub-points. All this is done inside the main body of the presentation. If visual aid is being used, the bullet points should be bound to three on every slide and expand these as you stay on. You may consider reading a detailed guide on presentation speaking skills exclusively written by our presentation trainer gurus.
TIP!
What to do if you need to make the above three points? Until you have the above three points reduce them! The audience would perhaps anyhow remember only three out of five or six of your points- but which one? Do work for them, and pinpoint three prominent points, and leave out others.
What, Why, How: in Presentation Writing – Critical thinking process
To communicate the message to your audience, an alternate structure is used that questions "What?", "How?" and "Why?" This attaches the power of three in a way but is a special case for driving action.
"What?" ascertain the main message you want to communicate. Figure out the benefit your audience would gain from your message. What will be their benefit, what they will get, and what information they can have? 
"Why?" address the next question that comes in the mind of the audience. Once told about "what", the audience will start thinking "why would I do this?", "why would that be the case?" or "why would I think like this?" Your talk is most probably on a normal path over the material when you directly are addressing the "why?" question. It means that you are in the next phase of the presentation and are answering these questions. This will make sure to have the audience to your side instantly. 
The last question that comes in the mind of the audience is "How?" They need to know how can that be attained what you have proposed. Don't try to be dogmatic here. Rather than dictating people how should they act on the message, suggest them regarding their actions, by using the examples? Try to back up what you are going to say with the proof. You should use statistics, personal examples, or case studies, but make sure to use them as stories. 
Editing Your Presentation Content: Getting Ready, Final Step!
Once your presentations' first draft is ready, it is essential to review it and edit. This makes sure that your message gets across your audience in the most effective manner. When the content of the presentation is being edited, consider this:
The language. Ensure that what you say is clear to your audience. Try using simple English instead of any jargon or complex terminologies. If possible, explain those terms first when you use them.

Sentence structure. Keep the sentence structure simple and try to use short sentences. Remember this thing that you are communicating through your thoughts and your audience is listening instead of reading.

The flow. Ensure that the structure of the presentation leads the audience to your thoughts and assist them to deduce a conclusion themselves.

Use stories and metaphors to assist in understanding and remembering.

To gain and grasp the attention of the audience using "Hooks". Make sure to include various 'hooks' at several points in your presentation. This will aid to keep the attention of the audience. This can be audience participation, stories, or some visual aids such as videos or images.

Double-check for grammar and spellings. Ensure that any slides or diagrams, captions, titles or handouts are not having any spelling mistakes.
Consider reading presentation design and presentation making exclusive tips here.
TIP!
Before editing the presentation take a break as it is ideal so you review your write up with a fresh mind. You can ask a colleague or friend to review your presentation to get a second opinion about it mainly at the flow of language. Ask someone unfamiliar with material to review it. 
A final thought:
The real final phase of your presentation is the actual writing of the presentation. If you have completed your preprocessing, you would know the purpose of the presentation, the topic, and the key points you have to make. It would be quite straightforward to put it down on paper.